I loved Cindy Bradley's Feb. 8 Going Vegan in the Herald Times.  She and her husband experimented with a plant-based diet to cope with his digestion problems. The two-week experiment yielded a drastic improvement in symptoms of Cindy's arthritis.  She was able to make a fist for the first time in years and swelling in her right ankle disappeared.  Not bad for a two-week experiment, considering the diet was neither difficult nor expensive.
Over the decades, I've adopted different nutrition regimens for health, cultural, and spiritual reasons.  Each regimen had its value, in addition to widening my culinary skills and tastes.  Growing up on hamburgers in the Midwest, I thought vegetarians would have weak muscles.  (There are strong vegetarian athletes around the world.) When I was a strict vegetarian for twelve years, I thought vegans would need at least some animal products for protein and vitamin B-12.  (Elephants, manatees, and cows don't seem to be protein deficient.)  I thought cooked foods were easier to digest, and made vitamins more available to the body, than raw foods.  (Sometimes true for some people.)  I remember reading that raw milk is dangerous. (Not when a skilled farmer uses age-old practices, but certainly true for large-scale industrial husbandry.)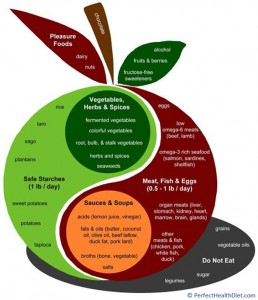 Nutrition guidelines have improved, but have been based on a varying combination of research, culture, and industry lobbying. Medical professionals can guide us according to their education, but often don't have experience with different diets.  If you're gluten, dairy, or soy intolerant, food pyramid guidelines will not help you.  Explore all resources to care for your health; remember that even a month-long experiment is a small test compared to decades of what you've been eating.
How does your food digest?  Does your food smell good (not just familiar)?  How much of your food preference is coming from your thinking, habits, or even addictions?  Time to branch out for your health's sake.  In general, most people could improve their health with more vegetables and fruit.
Fifty percent of our health problems relate to lifestyle practices such as diet.  We are very fortunate to have a year-round farmer's market, grocers that stock fresh produce, expert old-practice farmers, and Community Supported Agriculture.  We have gardening and permaculture educators, and abundant food education through our City's Parks and Recreation Department.  Test and taste the possibilities as you support your health through food every day!
Changing one's diet affords the possibility of a higher quality of life and better health through the lifespan.  Our community thrives from the cross pollination of dietary systems—we have the luxury of omnivore, vegetarian, vegan, and raw diets as our health, interests, and tastes change.  We are as blessed as our efforts and sensibilities take us, and being healthy might inspire our neighbors and families to make the improvements they need too.