DIYWelllbeing began as Cynthia Bretheim Massage Therapy & Holistic Health, circa 1986.
I am a committed personal evolution geek, absolutely voracious about ways to help health since I was a kid. That determination helped me overcome major health challenges and genetic predispositions, and I want you to have ways and moves that raise your shining delight and ease in living, whether that has to do with breathing more freely or being able to get out of bed feeling relaxed and refreshed.
In addition to being nationally certified as a massage therapist and bodyworker for +26 years; I have a master-of-science degree in Applied Health and a bachelor of arts in physiology of psychology. But more than that, health is my passion through studies, retreats, research, and experience in Eden Energy Medicine, Gokhale Method posture, Chinese Medicine, nutrition, meditation, yoga, and breathing science. I also spent four years as resident and staff at the Himalayan Institute. Recent continuing ed includes: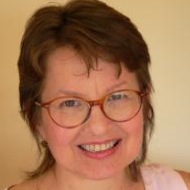 2019 Born to Walk with James Earls
2019 Research Reflexology 3 hours
2018 Brain Breath Movement 11 hours
2017 Hedley Integral Anatomy 15 hours
2016 Gokhale Method posture Foundations with Esther Gokhale
2016 Wellcoach health coaching 18 hours
Questions?  call or send an e-mail.