Thirty years of study, experience, and skills.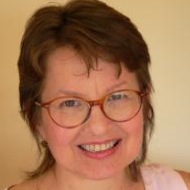 2019 Research Reflexology 3 hours
2018 Brain Breath Movement 11 hours
2017 Hedley Integral Anatomy 15 hours
2016 Gokhale Method posture Foundations with Esther Gokhale
2016 Wellcoach health coaching 18 hours
2012 Eden Energy Medicine sessions I & II, 25 hours
2011 M.S. in Applied Health Science, Indiana University
1994-present National Certification Board Therapeutic Massage Bodywork
State licensed in Therapeutic Massage.
1990 B.A. Psychology; minors French/Religion, Indiana University
1985-present Member, ABMP
1980-1984 resident & staff, Himalayan International Institute of Yoga Science & Philosophy
Workshops/retreats in massage, cranio-sacral, Trager, Byron Katie's Work, meditation, silence, nutrition, Bach Flower Remedies, Law of Five elements, Essential Oils, Sacred Geometry
Transformation of my own emotional and physical issues is still my most valuable teacher. My own health and development is an integral part of training for work with my clients.
Questions?  call 812.272.8188 or send an e-mail.